Detail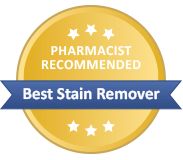 I recommend DP Stain Remover because it is much easier to use than other urine stain removers. DP doesn't require any mixing - simply spray this product on the stain. DP Stain Remover not only gets rid of the unsightly stain, it also removes any odors it may have caused. No noxious fumes! The DP Stain Remover is environmentally friendly, and is safe to use around both children and pets.
Using powerful enzymes, DP (de-pee) Stain & Odor Remover "De-activates," "De-composes," and "De- stroys" even the toughest stains and odors.
When you care for children, pets or even older adults, you know accidents and stains happen. Now, with DP (de-pee) Stain & Odor Remover, cleaning up those accidents or getting those tough stains out is no problem.
The DP (de-pee) stain remover is composed of a Proprietary Bio- Enzymatic formula that really works immediately to instantly to permanently remove stains and odors caused by potty accidents, spitting-up, diaper leakage, food stains, kid stains, even pet stains, and much more! This urine stain remover effectively works on bedding, clothing, mattresses, carpets, upholstery, furniture, sealed wood, tile, linoleum, and most any water safe surface. No mixing required - ready to use.
Our Customers Say It Best

Overall Rating

100%

of respondents would recommend this to a friend.

4

very good

very good not alot of scrubing lifted stain on rug fast

Bottom Line:

Yes, I would recommend this to a friend